About us
The Regional Council of Ostrobothnia is one of the eighteen regional councils in Finland. We are a statutory joint municipal authority formed by the fourteen municipalities in the region of Ostrobothnia.
Ostrobothnia is a region with circa 176,000 inhabitants on the west coast of Finland. It has two strong urban areas located around the cities of Vaasa and Jakobstad. In the south, the most important centres are Kristinestad, Kaskinen, and Närpes. These attractive regional centres are surrounded by vibrant villages, and sparsely populated areas are few and far between.
Ostrobothnia is an industrial region with a high value-added industry of great importance to the whole country's wellbeing. The region is home to a prominent energy technology cluster consisting of numerous SMEs and leading international companies. The cluster's large companies are global operators whose energy-saving technologies are utilised all over the world. In addition, a significant battery technology cluster is forming in the region.
Read more about Ostrobothnia as an industrial region: Merinova and Gigavaasa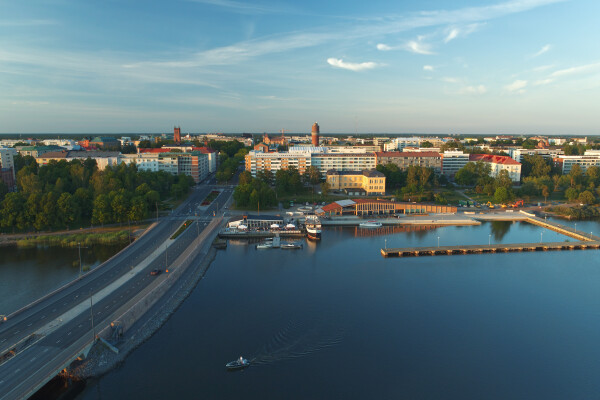 Ostrobothnia is distinguished by close collaboration between its companies, higher education institutions, and the public sector. This cooperation has been systematically developed over a long period of time. The region's innovation ecosystems are largely company-led and based more on practice-oriented than science-driven innovation activities. Innovations are often born in companies based on customer needs. Major companies especially in the Vaasa region invest heavily in innovation activities.
Competent workforce is a central resource for a vibrant business sector. The region's higher education institutions offer versatile educational opportunities and attract young people into the region.
The wellbeing and employment rate of Ostrobothnia's inhabitants are among the best in Finland. The inhabitants are socially active, which is reflected in a lively association and cultural life. Working together creates networks and trust or, in other words, social capital, which is strong in Ostrobothnia. The region offers comfortable and safe living environments as well as good and affordable housing. Short travel times from one's home to the workplace and services are a reality for most Ostrobothnians.
Ostrobothnia's nature provides a clean and versatile source for recreation. The nature is diverse and its most representative parts have been incorporated into national conservation programs approved by the Finnish Government. A nationally and internationally significant natural site, the Kvarken Archipelago, was added to the UNESCO World Heritage List in 2006.
Contact us
To find out more about the regional councils in Finland, please go to www.localfinland.fi.